Die schönsten Grachtenfahrten
Die schönste Bootstour auf den Grachten machen Sie selbst (mit unserer Hilfe)
Wir können uns vorstellen, dass Sie sich nicht -oder nur ein wenig auskennen- in Amsterdam. Das macht nichts. Im Gegenteil: eine Grachtenfahrt mit einem Boaty ist die schönste Art und Weise die Stadt selbständig kennenzulernen!
Dazu haben wir für Sie vier schöne Routenvorschläge: eine 'klassische' Route über die Amstel und die bekanntesten Grachten, eine 'abenteuerliche' Route über die Amstel und das östliche Zentrum (unter anderem an Artis und Nemo vorbei), eine ruhige (gerade ausserhalb vom Zentrum) und eine ganz aus der Stadt raus auf der Amstel.
Wenn Sie einer dieser Routen folgen, treffen Sie jede Menge Sehenswürdigkeiten und benuzten Sie Ihre Zeit auf dem Wasser optimal.
Route 1: Amsterdamer Grachten und Amstel
Die Amstel mit ihrer Mageren Brücke, die goldene Kurve der Herengracht, die Westerkirche an der Prinsengracht, das Jordaan-Viertel, das Rijksmuseum. All diese Highlights von Amsterdam -und vieles mehr- lassen sich kombinieren in dieser wunderschönen Bootsfahrt von etwa 3 Stunden.
Route 2: Amstel & Östliches Zentrum
Dies ist auch das Zentrum, aber ein wenig anders. Diese abenteuerliche Tour führt Sie in etwa 3 Stunden über die Amstel und vorbei an berühmten Orten wie Artis, Oosterdok, Nemo, Waterlooplein, Stopera und Hermitage. Auf dem Rückweg fahren Sie auch noch an der Heineken Experience und am Rijksmuseum vorbei.
Route 4: Raus aus der Hektik der Stadt
Falls Sie lieber der Innenstadt mal entfliehen, könnte eine ruhige Fahrt auf der Amstel etwas für Sie sein. Vor allem empfehlenswert an heißen und windstillen Tagen. Nach dem Hochbau am Bahnhof Amstel wird es grüner und fängt die Ruhe an. Vergessen Sie Ihre Sonnenbrille, ein Picknick und Ihre Badesachen nicht.
Route 3: the Best of the Rest
Diese Route bringt Sie auf die Amstel und in die Stadtteile gerade ausserhalb vom richtigen Zentrum. Sehr empfehlenswert falls Sie 'Oud-Zuid' und 'Oud-West' ansehen möchten, oder falls Sie nicht ins richtige Zentrum fahren wollen. 
Sie dürfen auf fast allen Grachten fahren
Es könnte sein, dass Sie lieber eine ganz eigene Route fahren wollen. Dann ist es gut zu wissen, daß Sie auf fast allen Grachten von Amsterdam fahren dürfen. Auch die Amstel (der Fluß) ist kein Problem.
Aus Sicherheitsgründen gibt es einige logischen Gebietsverbote: das IJ/Hafenbereich, die Kostverlorenvaart und die Nieuwe Herengracht. Diese sind deutlich auf unserer Wasserkarte gekennzeichnet.
Sind Sie sich nicht sicher, ob Sie mit Ihrem Boaty zu einem bestimmten Ort fahren dürfen? Oder wie lange Sie unterwegs sind zu einer bestimmten Stelle? Dann setzen Sie sich bitte mit uns in Verbindung.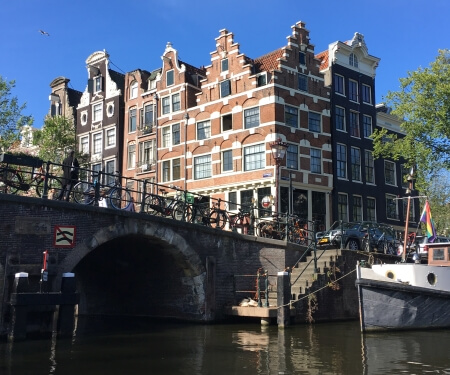 Sie erhalten einen übersichtlichen Grachtenplan
Sie brauchen keine Hausaufgaben machen und keinen eigenen Stadtplan mitbringen. Sie erhalten von uns einen großen laminierten Grachtenplan. Auf dem finden Sie unsere Routenvorschläge, die bekanntesten Sehenswürdigkeiten unterwegs und sonstige nützliche Informationen.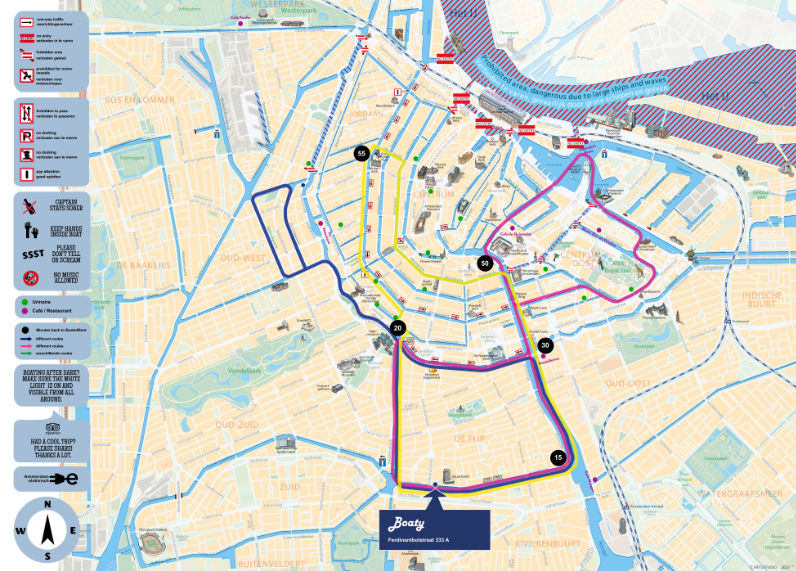 Zudem bekommen Sie eine persönliche Erklärung
Vor der Abfahrt erhalten Sie von uns auch eine persönliche Einführung. Dazu gehört, dass wir Ihnen die möglichen Fahrtrouten zeigen und erklären. Damit wissen Sie im großen Ganzen was Sie unterwegs begegnen werden, auf was Sie achten sollten, wo viel los sein könnte und wo Sie anhalten könnten.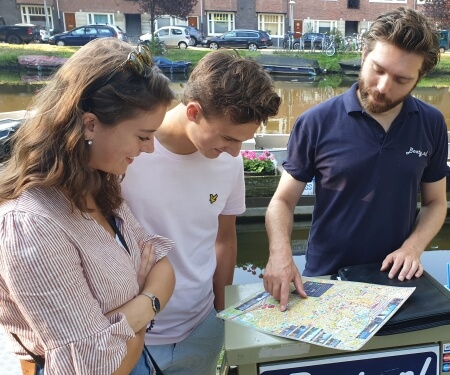 Drei Stunden, vier Stunden oder den ganzen Tag fahren?
Sie haben die Wahl: 3, 4 oder bis zu 10 Stunden. 3 Stunden reichen schon für eine schöne Fahrt auf der Amstel und einigen Hauptgrachten. In 4 Stunden kann man auch mal eine längere Pause einlegen. Falls Sie ganz viel Zeit (und Geld) haben und alles sehen möchten: da lohnt es sich Ihr Boot den ganzen Tag zu mieten.